Features of the digital onboarding solution
Intelligent data capture & extraction
Your customers initiate a paperless onboarding process by intelligently capturing the data from sources such as IDs, bank cards, or pay slips, using their smartphone or tablet camera. Docbyte's solution then uses OCR technology to extract the necessary details, turn unstructured information into structured content, and create a profile for digital identification. This content is then seamlessly fed into it to your CRM system.
Automated document generation
As soon as all the customer's information has been received, a digital document (such as a digital credit contract, loan contract, or any other type of agreement) can be automatically generated and sent to the customer.
Seamless 
integration with your back office
Client information goes directly to your back office for credit scoring, in full compliance with GDPR and eIDAS regulations.
Once the digital document is generated, it is ready to be digitally signed by the customer. Different levels of e-signatures (advanced, qualified etc.) can be added, depending on your needs.
Our experts can have your digital onboarding solution configured and up and running faster than anyone, depending on your requirements.
Modular and brandable (web)application
You can use your own branding across the app to build confidence and increase brand recognition. You can also provide a quick onboarding ramp to your business directly from the customer's smartphone or tablet.
Full Digital Onboarding Process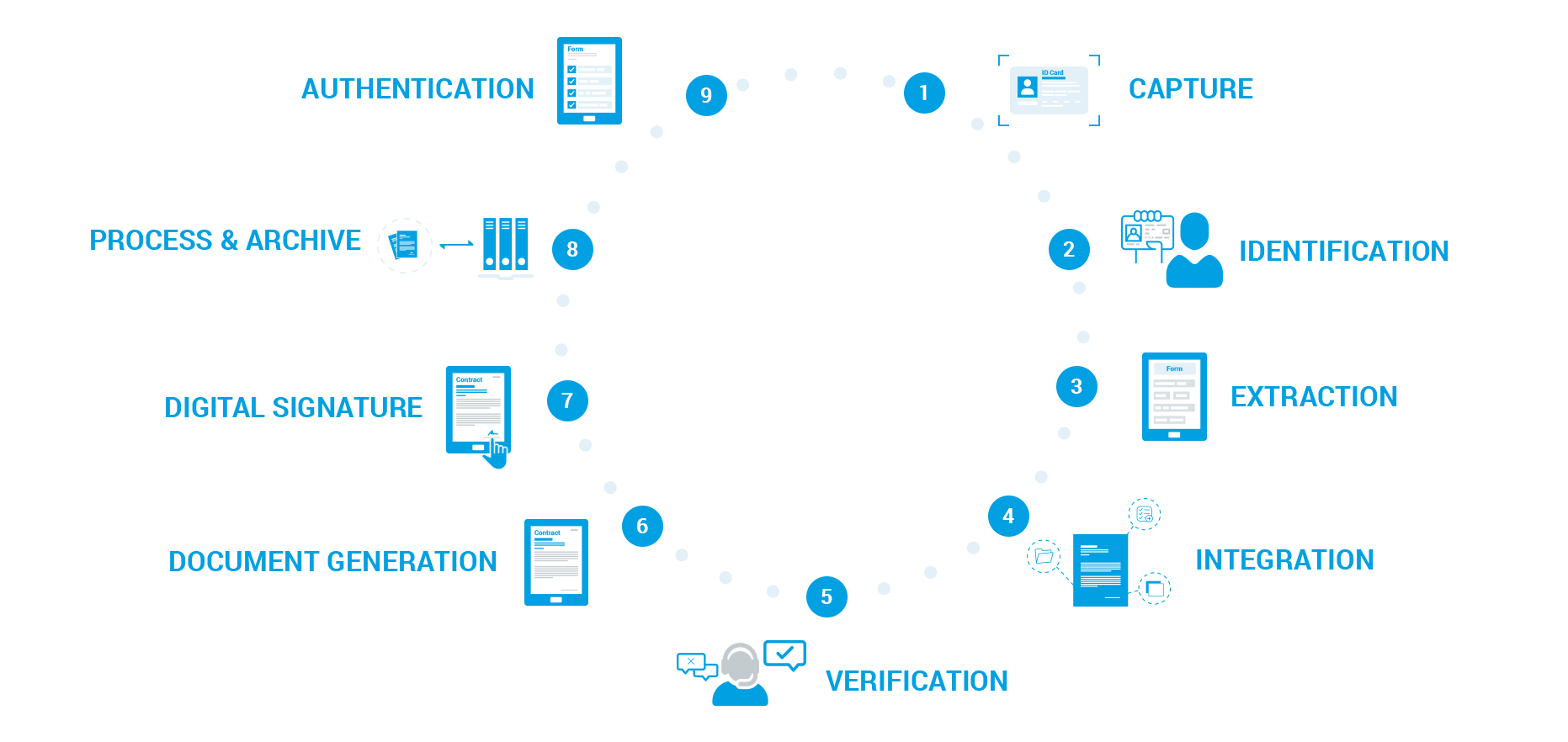 1
All the information on the porential customer's ID, eID, driver's license, residential permit, pay slip etc. can easily be captured and digitized.
2
The person presenting the evidence files needs to be identified as the owner of the documents. This can be checked face to face or via facial recognition.
3
By using friendly data gathering interfaces we are able to extract data from the evidence documents in real-time and automatically fill in a registration form.
4
More value is added to your digital onboarding process by integrating it with your case management, task management or AI solution.
5
Automated verification checks are integrated into the system to check if the extracted and processed data is correct.
6
When the verification is successful, the necessary documents (e.g. contracts, proposals, …) will automatically be created in real time and added to a case.
7
A digital signature can be added to the document by the customer and seal the contract on several levels.
8
When the contract is signed and the client starts the relationship with the organization, all the current and future information needs to be archived in a compliant way.
9
When a customer wants to purchase again in the future, he can easily be auhenticated and signed in.
Mobile Onboarding Process
Take pictures of your documents – such as IDs, driver's license, bank cards, or pay slips – and upload them to the app. All the necessarily information will be easily captured and processed by the app.
The app automatically fills out the necessary forms based on the information extracted from your documents. Check that the information is correct and complete any missing fields, if necessary.
Add your digital signature to the contract after the document is automatically generated by the app.
9 steps to successful Digital Customer Onboarding [Whitepaper]
The fight for a new customer has never been more difficult or costly. Research reveals a global increase in overall customer willingness to change banks or insurance companies. This is particularly true for the Millennial segment, who have only known a digital world and understand how easy it is to switch loyalties.
Digital Customer Onboarding, are we there yet? [Blog]
E-commerce vendors in the retail world have been fine-tuning their customer experience in such a way that buying online becomes natural and fast. But what about other businesses (such as banking and insurance) where physical contact and old style paperwork is still commonplace. When will their digital customer onboarding reach the same level as the mainstream online vendors?
Digital Onboarding Demo [Webinar]
It is not always seamless to create an inhouse Digital Onboarding solution. Take a look at this webinar to see our solution with mobile and real time scanning technology at work in a demo. We are able to make the onboarding process of your clients shorter, easier and faster by reducing what was hours to just a few minutes!
"Even without comparison to other parties. We resolutely chose Docbyte because we trusted their expertise to fulfil this project quickly and accurately, based on their experience and references."
"The feedback we received from the pilot project users is overall very positive. The benefits that came across most frequently were: ease of use, gain of time, productivity increase, more focus on the core job and less frustration."
"We were looking for a system that should really be intuitive. A non-trained co-worker should be able to sit at a desk and use it straight away, because then we know that we have a user-friendly system that will really help to improve our services towards our stakeholders"
"Working digital is more secure: digital files are on various servers, while paper files were at risk from fire, water damage… However, the most important advantage of all was the time-saving."
"Choosing Docbyte's Electronic Patient Archive in combination with their Application Retirement solution was, for AZ Alma, a deliberate and future-oriented strategic decision."
"The solution for our invoice management system not only generates substantial savings, it also allows our staff to concentrate on their core duties. A clear win-win."