Regtech that automates your organization
Docbyte harnesses the power of innovative technology to make sure your processes run smoothly regardless of regulations. Our solutions are focused on making the work of companies in regulated sectors such as banks, insurers, public services, life sciences and more, easier by automating crucial business processes. We give them solutions to turn compliance into an advantage by increasing efficiency, heightening customer experience, and giving you the time to focus on your core activity.
Docbyte can help you with
Link to: Digital Onboarding
Fast and frictionless onboarding with the latest innovations. We automate your onboarding processes so you can open accounts in minutes. From first contact to signed contract, our solution makes the process shorter, easier, and faster.
Link to: Digital Mailroom
Manage all inbound information without effort. We automate your customer interaction processes no matter the type of content or channel. Real-time processing lets you handle requests or claims instantly, resulting in happy customers.
Link to: Digital Archiving
Banks and financial organizations are facing several challenges today for KYC/AML compliance and customer (re-)screening.
An ID capture solution helps them to improve the identification process of their customers by making it short, easy and fast.
Link to: Digital Archiving
Our solution makes sure you keep all necessary business information accessible at all times. Compliant and future-proof, we cure all your archiving headaches, both short- and long-term, thanks to automated file format conversion, comprehensive audit trails, and more.
Link to: Customer Communication Management
Customer communication management
Managing your outbound communications has never been easier. You interact with customers through a variety of channels for a multitude of reasons. Our customer communication management solution digitizes all touchpoints and centralizes them on one platform.
Link to: Case Management
Our case management solution uses RPA technology, among other things, to help you get a grip on your information challenges and keep track of your cases. Don't get bogged down by repetitive administration and let our intelligent solution free up time for what matters.
Link to: Digital Sealing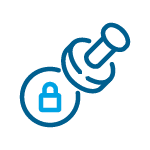 We make it easy to add a digital signature, seal and timestamp to your documents to secure and authenticate all your files. Digital sealing gives you peace of mind as we guarantee compliance and fraud protection, and make exchanging legal documents across borders effortless.
Link to: Electronic Patient Archive
Electronic patient archive
We handle your sensitive information with the same care you treat your patients. Long-term access, quickly locating the right files, and airtight security – they're just some of the advantages you gain when moving your patient files to our electronic patient archive.
Link to: SyncServer
Migrate your data from one system to another with zero downtime with SyncServer. You will achieve over 60 percent cost savings, 80 percent time savings, and 100 percent satisfaction; stop losing business, start using SyncServer.
Link to: Anonymization
With our automated anonymization tool, sensitive customer data is not being used and processed unlawfully. Advanced machine learning can blur or black out information in images, such as faces and text.
Docbyte, your ideal partner
Docbyte is no stranger to the world of automation. Thanks to our years of working on process automation, we know what challenges you face now and in the future.
Ahead of the technology curve
While everyone is still busy understanding last year's technological novelties, Docbyte is already onto next year's innovations. To achieve our dream of fully automated processes, we're always one step ahead when it comes to innovative technology.
Our solutions have got their heads in the cloud. So you can unlock all the benefits that the cloud offers for your automation. Pay for what you use, get unlimited computing power, reduce pesky maintenance, and much more.
Modularity to support change management
Our solutions are built-in modules, allowing you to cherry-pick what you need. You can gradually introduce new tech or bridge a functionality gap in your current processes. Our building blocks guarantee a smooth transition and make it easier to deal with compatibility challenges.
Our digital mailroom helped Federale Verzekering to get rid of its paper administration load. Thanks to a digital workflow, customers now receive information whenever and wherever they need it.
Thanks to a digital mailroom, insurance company Optimco can easily manage over 160,000 contracts for 120,000 customers. Employees do not lose time searching for documents and so provide better service.
We reduced the mailroom of the P&V Group by 2.5 million pages by automating the document scanning and archiving. The P&V Group now has almost no printing costs.