Docbyte can help you with
Link to: Digital Mailroom
Manage all inbound information without effort. We automate your customer interaction processes no matter the type of content or channel. Real-time processing lets you handle requests or claims instantly, resulting in happy customers.
Link to: Digital Archiving
Banks and financial organizations are facing several challenges today for KYC/AML compliance and customer (re-)screening.
An ID capture solution helps them to improve the identification process of their customers by making it short, easy and fast.
Link to: Digital Archiving
Our solution makes sure you keep all necessary business information accessible at all times. Compliant and future-proof, we cure all your archiving headaches, both short- and long-term, thanks to automated file format conversion, comprehensive audit trails, and more.
Link to: Digital Sealing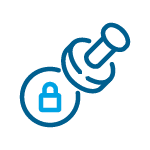 We make it easy to add a digital signature, seal and timestamp to your documents to secure and authenticate all your files. Digital sealing gives you peace of mind as we guarantee compliance and fraud protection, and make exchanging legal documents across borders effortless.
Link to: SyncServer
Migrate your data from one system to another with zero downtime with SyncServer. You will achieve over 60 percent cost savings, 80 percent time savings, and 100 percent satisfaction; stop losing business, start using SyncServer.
Link to: Anonymization
With our automated anonymization tool, sensitive customer data is not being used and processed unlawfully. Advanced machine learning can blur or black out information in images, such as faces and text.
"Even without comparison to other parties. We resolutely chose Docbyte because we trusted their expertise to fulfil this project quickly and accurately, based on their experience and references."
"The feedback we received from the pilot project users is overall very positive. The benefits that came across most frequently were: ease of use, gain of time, productivity increase, more focus on the core job and less frustration."
"We were looking for a system that should really be intuitive. A non-trained co-worker should be able to sit at a desk and use it straight away, because then we know that we have a user-friendly system that will really help to improve our services towards our stakeholders"
"Working digital is more secure: digital files are on various servers, while paper files were at risk from fire, water damage… However, the most important advantage of all was the time-saving."
"Choosing Docbyte's Electronic Patient Archive in combination with their Application Retirement solution was, for AZ Alma, a deliberate and future-oriented strategic decision."
"The solution for our invoice management system not only generates substantial savings, it also allows our staff to concentrate on their core duties. A clear win-win."